Klick
Was genau zeichnen die smarten Geräte bei unszu Hause auf? Gehört dem autonomen Fahren die Zukunft? Wo entscheiden Algorithmen besser als der Mensch,
wo aber nicht? Und wie groß ist die Chance wirklich, beim Online-Dating den Partner fürs Leben zu finden?
In seinem neuen Buch beschreibt  Gerd Gigerenzer anhand vieler konkreter Beispiele, wie wir die Chancen und Risiken der digitalen Welt für unser Leben richtig einschätzen und uns vor den Verlockungen sozialer Medien schützen können. Kurz: wie wir digitale Kompetenz erwerben und auch online kluge Entscheidungen treffen.
Pressestimmen:
"Gigerenzer ist brillant!" Steven Pinker
"Der Psychologe hat unter dem Titel "Klick" ein Buch vorgelegt, das didaktisch gut gemacht ist, wohltuend sachlich ausfällt und einen weiten Bogen spannt von Künstlicher Intelligenz (KI), wie sie gegenwärtig funktioniert und in bekannten Angeboten vorkommt, über unseren Umgang mit Wahrscheinlichkeiten und Ungewissheit bis hin zu sozialen Szenarien und persönlichen Empfehlungen."
Frankfurter Allgemeine Zeitung
Gerd Gigerenzer
Klick - Wie wir in einer digitalen Welt die Kontrolle behalten und die richtigen Entscheidungen treffen
416 Seiten, Hardcover
ISBN: 978-3-570-10445-3 
übersetzt aus dem Englischen von Hainer Kober, Originaltitel: How to Remain Smart in a Smart World
€ 24,00
C. Bertelsmann, Deutsch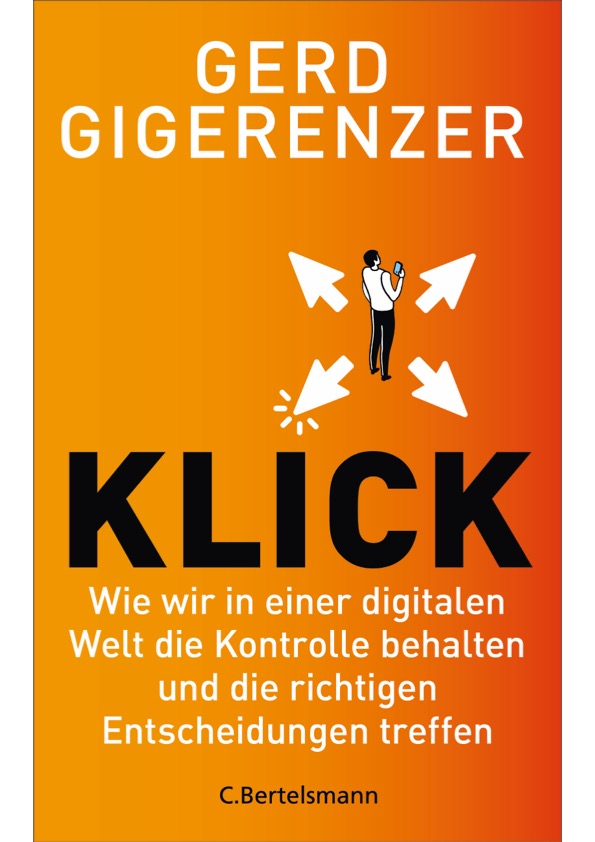 How to Stay Smart in a Smart World
An essential guide to navigating our data-driven world, from the renowned psychologist and author of Risk Savvy

Is more data always a good thing?
Do algorithms really make better decisions than humans?
Can we stay in control in an increasingly automated world?

Drawing on decades of research into decision-making under uncertainty, Gerd Gigerenzer makes a compelling case for the enduring importance of human discernment in an automated world that we are told can - and will - replace our efforts.

From dating apps and self-driving cars to facial recognition and the justice system, the increasing presence of AI has been widely championed - but there are limitations and risks too. Humans are the greatest source of uncertainty in these situations and Gigerenzer shows how, when people are involved, trust in complex algorithms can lead to illusions of certainty that become a recipe for disaster. We need, now more than ever, to arm ourselves with knowledge about how to make better decisions in a digital age

Filled with practical examples and cutting-edge research, How to Stay Smart in a Smart World examines the growing role of AI at all levels of daily life with refreshing clarity. This book is a liferaft in a sea of information and an urgent invitation to actively shape the world in which we want to live.
Pressestimmen:
"Enlightening, impassioned, powerful . . . exposes the hunger for autocratic power, the political naivety and the commercial chicanery that lie behind the rise of AI."
Simon Ings, The Times
"Using personal anecdotes, cutting-edge research and cautionary real-world tales, Gigerenzer deftly explains the limits and dangers of technology and AI."
Chen Ly, New Scientist
Gerd Gigerenzer (2022)
How to Stay Smart in a Smart World
320 Seiten
ISBN: 9780241481103
£20.00
Allen Lane/Penguine Books
Classification in the Wild - Die Wissenschaft und Kunst der transparenten Entscheidungsfindung
Dieses Buch konzentriert sich auf Klassifizierungsprobleme – die Einteilung von Objekten in Kategorien – "in der freien Wildbahn", das heißt in realen Situationen unter Ungewissheit anstatt der Gewissheit des Labors. Im Gegensatz zu typischen psychologischen Experimenten ist in der freien Wildbahn die Zukunft nicht vorhersehbar und Ungewissheit kann nicht sinnvoll auf Wahrscheinlichkeiten reduziert werden. Das Buch verbindet die Analyse von Heuristiken mit maschinellem Lernen und zeigt, wie man formale Modelle mit Klassifizierungsregeln erstellt, die einfach, schnell und transparent sind und dabei genauso präzise sein können wie mathematisch anspruchsvolle Algorithmen aus dem maschinellen Lernen.
Die Autor*innen – deren individuelle Expertise von empirischer Psychologie über mathematischer Modellierung bis hin zu künstlicher Intelligenz und Data Science reicht – liefern Beispiele aus der Praxis, darunter Präsidentschaftswahlen, HIV-Tests und Entscheidungsfindung in der Rechtsprechung.
Das Buch gibt eine leicht zugängliche Anleitung für die Kalibrierung heuristischer Modelle und vergleicht ihre Leistung mit Algorithmen des maschinellen Lernens, wenn diese auf reale Probleme angewandt werden. Darüber hinaus stellen die Autor*innen konzeptionelle und historische Verbindungen zur kognitiven Psychologie her und analysieren sicherheitsrelevante Anwendungen wie die Verringerung von zivilen Opfern an Kontrollpunkten und die Regulierung von Investmentbanken.
Konstantinos Katsikopolous, Gerd Gigerenzer, Özgur, Markus Buckmann (2021)
Classification in the Wild - Die wissenschaft und Kunst der transparenten Entscheidungsfindung
200 Seiten, Kartoniert
ISBN: 978-0262045155
€ 35,99
The MIT Press
Risk Savvy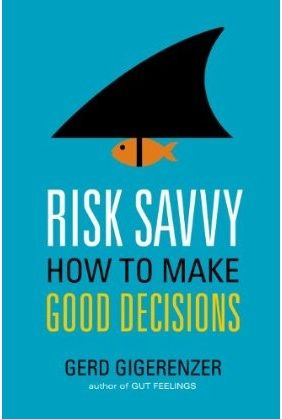 An eye-opening look at the ways we misjudge risk every day and a guide to making better decisions with our money, health, and personal lives.
In the age of Big Data we often believe that our predictions about the future are better than ever before. But as risk expert Gerd Gigerenzer shows, the surprising truth is that in the real world, we often get better results by using simple rules and considering less information.
In Risk Savvy, Gigerenzer reveals that most of us, including doctors, lawyers, financial advisers, and elected officials, misunderstand statistics much more often than we think, leaving us not only misinformed, but vulnerable to exploitation. Yet there is hope. Anyone can learn to make better decisions for their health, finances, family, and business without needing to consult an expert or a super computer, and Gigerenzer shows us how.
Risk Savvy is an insightful and easy-to-understand remedy to our collective information overload and an essential guide to making smart, confident decisions in the face of uncertainty.
Gerd Gigerenzer (2014)
Risk Savvy: How to make good Decisions
Hardcover: 336 pages
Publisher: Viking Adult (April 17, 2014)
Language: English
ISBN-10: 0670025658
ISBN-13: 978-0670025657
$26,95
Better Doctors, Better Patients, Better Decisions: Envisioning Health Care 2020 (Strungmann Forum Reports)
Contrary to popular opinion, one of the main problems in providing uniformly excellent health care is not lack of money but lack of knowledge on the part of both doctors and patients.
 
The studies in this book show that many doctors and most patients do not understand the available medical evidence. Both patients and doctors are "risk illiterate" frequently unable to tell the difference between actual risk and relative risk. Further, unwarranted disparity in treatment decisions is the rule rather than the exception in the United States and Europe. All of this contributes to much wasted spending in health care. The contributors to Better Doctors, Better Patients, Better Decisions investigate the roots of the problem, from the emphasis in medical research on technology and blockbuster drugs to the lack of education for both doctors and patients. They call for a new, more enlightened health care, with better medical education, journals that report study outcomes completely and transparently, and patients in control of their personal medical records, not afraid of statistics but able to use them to make informed decisions about their treatments.
 
Chapter 1:
Launching the Century of the Patient
Gerd Gigerenzer, J.A. Muir Gray (Editors) (2011)
Better Doctors, Better Patients, Better Decisions
Hardcover: 416 pages
Publisher: The MIT Press; 1st edition (March 25, 2011)
Language: English
ISBN-10: 0262016036
ISBN-13: 978-0262016032
Gut Feelings
How does intuition work? Can following your gut feelings lead to some of the best decisions? It seems naive, even ludicrous, to think so. Yet drawing on a decade of research, Gigerenzer demonstrates that our gut feelings are actually the result of unconscious mental processes - processes that apply rules of thumb that we've derived from our environment and prior experiences.
"Memorable. Clever. Gerd Gigerenzer locates specific strategies that the unconscious mind uses to solve problems. These are not impulsive or capricious responses, but evolved methods that lead to superior choices."
The Boston Globe
"The science behind the phenomenon cited in the bestseller Blink ... Useful and clearly written."
Business Week
"Gigerenzer's writing is catchily optimistic and slyly funny ... devilish."
Guardian
Winner Best Science Book in Germany and the Handelszeitung Business Book of the Year; shortlisted for the Royal Society Prize for General Science Books. 
Click for a look inside (amazon.com).
Gerd Gigerenzer (2007)
Gut Feelings: The Intelligence of the Unconscious
Hardcover: 288 pages
Publisher: Viking Adult; 1 edition (July 5, 2007)
Language: English
ISBN-10: 0670038636
ISBN-13: 978-0670038633
Translated into Brazilian, Bulgarian, Chinese, Croatian, Dutch, French, German, Italian, Japanese, Korean, Polish, Portuguese, Romanian, Spanish, Taiwanese, and Turkish.
Calculated Risks
"The unique value of Calculated Risks lies in the practical and simple tools it provides to help readers understand risks and communicate them effectively to others. These tools are easy to learn and should be mastered by every medical student, health care provider, and professional who is in the position of having to understand and explain to others choices involving risks and uncertainties."
New England Journal of Medicine
"Gigerenzer, a cognitive scientist with an imaginative approach both to theory and experimentation, has set out to write a popular, accessible book. His broad theme is that probabilities are often misunderstood, but that those misunderstandings could be avoided more often were professionals to represent risk and uncertainty more clearly."
London Review of Books
"Indispensable ... The book will change the attentive reader's way of looking at the world."
Sunday Telegraph
"This book should be pressed into the palms of anyone who has ever read an alarming statistic."
Independent
Winner Best Science Book in Germany; shortlisted for the Royal Society Prize for General Science Books. 
Click here for more information and to browse inside (amazon.com).
Gerd Gigerenzer (2003)
Calculated Risks: How to Know When Numbers Deceive YouPaperback: 320 pages
Publisher: Simon & Schuster; 1 edition (March 19, 2003)
Language: English
ISBN-10: 0743254236
ISBN-13: 978-0743254236
Translated into French, German, Italian, Japanese, Korean, and Portuguese.
Warum dick nicht doof macht und Gen-Mais nicht tötet
Shark attack fatalities double from 2010, women still earn less than men, genetically modified corn is carcinogenic, eating chocolate makes you thin, Poles work harder than Germans: Headlines like these circulate almost daily in the media, where the competition for attention is tough. There is hardly a news medium that doesn't resort to rankings, superlatives, and growth rates, such as where to earn the most, how high the risk is of certain diseases, who lives healthier and why. However, most of these messages are based on highly questionable data, and many are completely false.
To expose such distortions of reality and help interpret numerical representations correctly, Thomas Bauer, Gerd Gigerenzer, and Walter Krämer began publishing the "Unstatistik des Monats" in 2012, in which they dissect recently published statistics and their interpretations. Now they present a collection of these and many new examples in their book.
The authors highlight the negligence of many so called statistics experts: hiding background information, not indicating reference values, making no distinction between percentages and percentage points, confusing relative and absolute risks, claiming causal relationships where there is only correlation. In their book, the authors show how to identify bad statistics, how to be on guard against manipulation, and how to better understand the world of statistics, numbers, and probabilities.
This book is only available in German.
Thomas Bauer, Gerd Gigerenzer, Walter Krämer (2016)
Warum dick nicht doof macht und Gen-Mais nicht tötet - Über Risiken und Nebenwirkungen der Unstatistik
216 S., zahlreiche Tabellen und Grafiken, Klappenbroschur 
ISBN 978-3-593-50030-0
€ 9,99 
Campus Verlag